Computing
How do we teach Computing at Albrighton Primary School?
Intent
At Albrighton Primary School and Nursery, we believe that a broad, rich and creative curriculum is essential in the education of all pupils. We understand that a high-quality computing education should inspire in pupils a curiosity and fascination about technology and prepare them for their next stage in education. Closely linked with our PSHE curriculum, we aim to enable our children to become happy, healthy, independent and responsible citizens online. Our computing curriculum will equip pupils with knowledge about computer science, information technology and digital literacy. Our principle aims for computing are for children to:
Develop their understanding of technology and how it is constantly evolving.

Develop their skills and capability which is essential to developing Computer capability.

Evaluate the benefits and risks of technology and how to manage their use of it safely and respectfully.
Be responsibly, competent, confident and creative users of information and communication technology.

Celebrate success in the use of technology.
At Albrighton Primary School we embed computing, in our classrooms, across the whole curriculum and use technology to support those with additional needs. We believe that the knowledge and skills that intertwine with computing learning are vital in not only a child's education, but also in their wider life. Our computing curriculum will support pupils to be prepared for the next stage in their young lives and to live responsibly in a modern, diverse world.
Implementation
In EYFS children learn through exploratory play, using technological toys and learn that they can make them work by pressing buttons and clicking on icons. They are taught how to complete simple programs which they use to support their phonics and mathematical skills. Through role play, discussion and stories children learn that technology can be used for a range of purposes across home and school.
At Key Stages 1 and 2, we follow the National Curriculum Objectives, which have been broken down into the necessary knowledge and skills that need to be taught at each phase. We plan weekly computing lessons using and adapting agreed planning from Cornerstones, Twinkl and Teach Computing to focus on maximising children's knowledge acquisition over time. Children will learn about different programmes, coding, online safety, games and creative tools. Where appropriate, meaningful links are made between the computing curriculum and the wider curriculum, especially PSHE. Employing cross-curricular links motivates pupils and supports them to make connections and remember the skills they have been taught. Local links with RAF Cosford and STEM opportunities facilitate challenge for pupils in computing.
Impact
Children will have developed the computing knowledge and skills to help them become confident and competent users of technology. Children's knowledge and skills will develop progressively as they move through the school, not only to enable them to meet the requirements of the National Curriculum but to prepare them to effectively live a modern and diverse world.
We measure the impact of computing through the following methods:
Assessing children's understanding of the knowledge and linked vocabulary before and after the unit is taught.

Formative assessment throughout lessons - questioning and AFL tasks to check knowledge and understanding.

Opportunities to use knowledge in other contexts such as in literacy or PSHE.

Interviewing the pupils about their learning (pupil voice).

Moderation staff meetings where there is the opportunity for a dialogue between teachers to understand their class's work.

Annual reporting of standards across the curriculum.

High quality discussions around the Learning Objectives and Success Criteria.
At Albrighton Primary school we provide learning experiences that balance all aspects of computing.
Technology is such a big part of our everyday lives, it is important that children are taught to effectively use and stay safe using technology.

Pupils will explore the three areas of the computing curriculum:
DIGITAL LITERACY (including e-safety) - evaluating digital content, using technology safely, respectfully and responsibly and identifying a range of ways to report concerns.
INFORMATION TECHNOLOGY - using technology to create, manipulate and retrieve digital content and present data and information.
COMPUTER SCIENCE - design, write and debug programs that accomplish specific goals.
Please read the guide below for support to keep your children safe on the internet at home.
Years 1 and 2
This half term year 1 and 2 have been introduced to the app 'Scratch JR'. The children have enjoyed being able to write, test and debug algorithms for a range of characters.
We have also discussed the importance of staying safe online and what we should do if we are worried.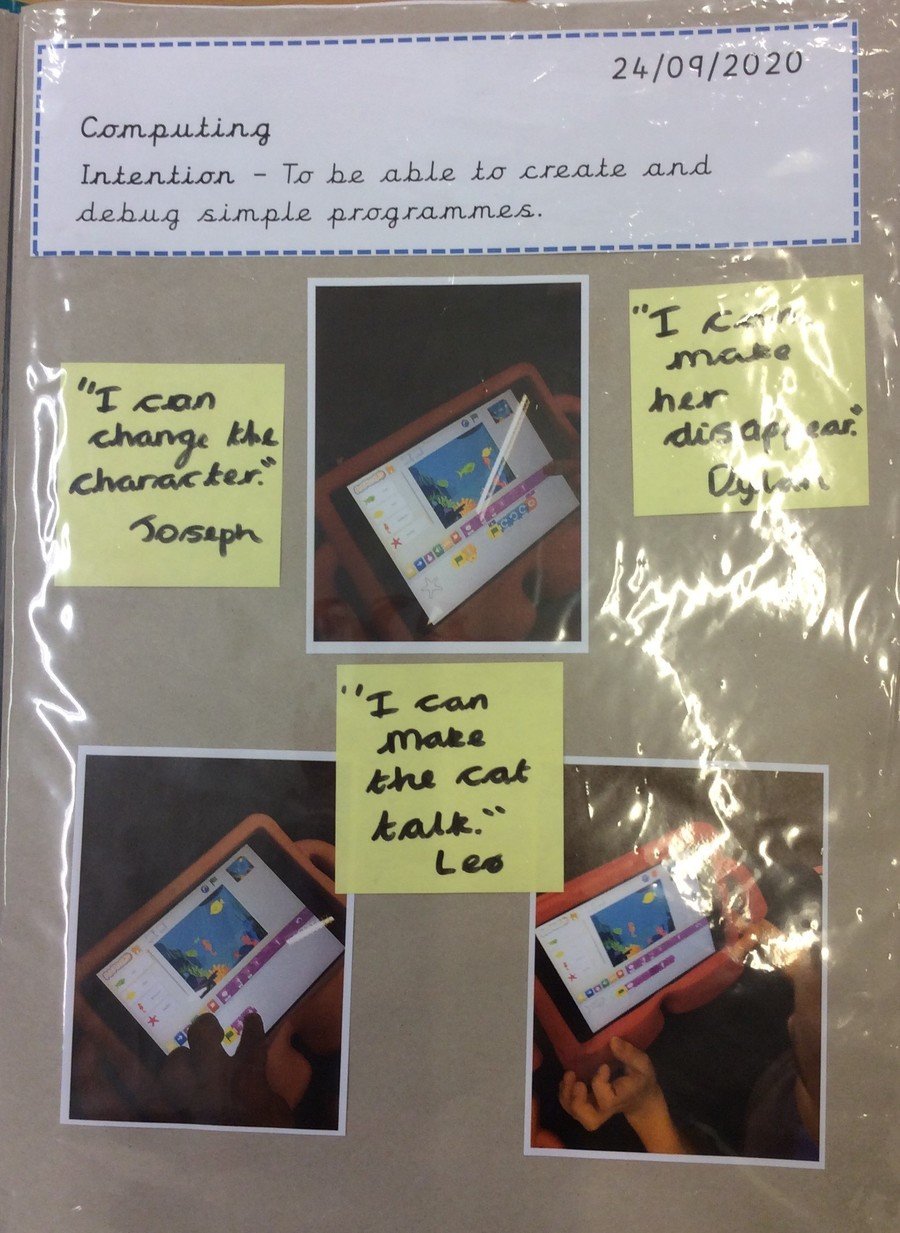 Year 3 and 4 started the year by refreshing their word processing skills. They are aiming to increase their fluency throughout the year.
This half term they have moved onto coding 'Scratch'. They are learning how to programme different instructions and change the backgrounds.
Year 5 & 6
Year 5 and 6 have started the academic year learning how to use teams. Teachers wanted to ensure all children were confident to access and use teams if they needed to.
They then moved onto learning how to use spreadsheets and the different functions it offers. Year 5 and 6 have looked at how to apply spreadsheets into real life situations.
Year 5 and 6 are now looking forward to learning how to code 'scratch' and 'code for life'.