How do we teach Geography at Albrighton Primary School & Nursery?
Intent
At Albrighton Primary School and Nursery, we believe that a broad, rich and creative curriculum is essential in the education of all pupils. We understand that a high-quality geography education should inspire in pupils a curiosity and fascination about the world and its people that will remain with them for the rest of their lives. Our geography curriculum will equip pupils with knowledge about diverse places, people, resources and natural and human environments, together with an understanding of the Earth's key physical and human processes.
We believe that the knowledge and skills that intertwine with geographical learning are vital in not only a child's education, but also in their wider life. We understand that geography isn't just a subject; it is a means to a child learning about their place in the world and how they, as an individual, can impact upon it both now and in the future. As a school, we are very lucky to have such a varied and interesting locality and we use our strong community links to enhance our curriculum and encourage a true love and curiosity for the whole world and everything in it.
Implementation
Our Geography Progression document has been developed following the National Curriculum with teaching that
equips our pupils with knowledge about their own local environment, diverse places, people, resources and natural and human environments, together with an understanding of the Earth's key physical and
human processes.
The geography curriculum has been specifically sequenced in a logical progression to ensure that new knowledge and skills build on what has been taught before from Reception to Year 6. Geography is explicitly taught in years 1 to 6 and units are blocked over a term to allow children to focus on developing their knowledge and skills, studying each topic in depth and enabling pupils to build on and deepen their knowledge and skills each year, over a two year cycle. Cross-curricular links are planned for, with other subjects such as Science, History, Maths, Writing and Computing being incorporated within geography lessons and the curriculum.
Location knowledge, fieldwork and map work are woven throughout the Geography topics. Effective use of educational visits, local fieldwork and visitors are planned, to enrich and enhance the pupil's learning experiences within the Geography curriculum.
At the start of each unit children will review previous learning and will have the opportunity to share what they already know about a current topic. In order to support children in their ability to know more and remember more, there are regular opportunities to review the learning that has taken place in previous units as well as previous lessons.
At the beginning of a geography lesson, children are given clear success criteria in order to achieve the Learning Objective with different elements of adaptive teaching to support independence. Effective modelling by teachers and use of resources ensures that children are able to achieve their learning objective, with misconceptions addressed within it. Through using a range of assessment tools, differentiation is facilitated by teachers, to ensure that each pupil can access the Geography curriculum.
Adaptive Teaching
Adaptive teaching means that teachers adapt their teaching to make it appropriate for all students in their classroom so each and every child can access the learning and be successful in their learning. For geography this means that all children will receive Quality First Geography teaching in the classroom and the lesson and resources will be adapted to suit the needs of all pupils. This might take the form of breaking the lesson up into smaller chunks, rephrasing questioning, using resources such as word banks, widgets, pre teaching or reading about a topic and/or targeted support from the teacher and teaching assistant during the lesson.
PROGRESSION DOCUMENTS
Impact
Children will have developed the geographical knowledge and skills to help them explore, navigate and understand the world around them and their place within it. Children's knowledge and skills will develop progressively as they move through the school, not only to enable them to meet the requirements of the National Curriculum but to prepare them to become competent geographers in their secondary education and beyond.
We measure the impact of our geography curriculum through the following methods:
Assessing children's understanding of the knowledge and linked vocabulary before and after the unit is taught.

Formative assessment throughout lessons - questioning and AFL tasks to check knowledge and understanding.

Opportunities to use knowledge in other contexts such as in literacy or PSHE.

Interviewing the pupils about their learning (pupil voice).

Moderation staff meetings where pupil's books are scrutinised and there is the opportunity for a dialogue between teachers to understand their class's work.

Annual reporting of standards across the curriculum.

Marking of written work in books.
What can parents do at home to support the learning of Geography?
Talk to your child about local features whilst travelling around day to day places. What makes it a good place to live? Visit? What would help to make it even better?

Observe different things on your journey to school each day – You might look for different animals on Monday and then different vehicles on Tuesday for example.

If you use a map, allow your child to follow the route. Talk to them about what you pass and how it looks on the map. This could be an OS map, Road Map or even google maps on a phone. As a fun activity, you could work together with your child to make a map of a route they know well, and then try and follow it together. (Young children could even use toys/items to make their own 3D map of their local area).

Use holidays as a base for area comparison. Compare your holiday location with your home area – what is similar and what is different? (i.e. coastal, urban, rural etc? What are the staple foods? Why?)

Whilst your child is looking at any sort of media (internet, films etc), ask them questions. What do they know about the area from watching the film? What might the weather be like? What happens there? Many children's films and programmes are set in a variety of different places and are a brilliant starting point for geographical discussion.

Ask geographical questions; think about who, what, where, when and why.(see the below picture for more information).
| | | | | | | | |
| --- | --- | --- | --- | --- | --- | --- | --- |
| Nursery | Reception | Year 1 | Year 2 | Year 3 | Year 4 | Year 5 | Year 6 |
| Design a familiar route and use maps as part of role play. | Make and use maps in their play to represent places and journeys, real and imaginary | Draw and read a simple picture map | Draw and read a range of simple maps that use symbols and a key. | Use 4 figure grid references to describe the location of objects and places on a simple map. | Use four or six-figure grid references and keys to describe the location of objects and places on a map. | Identify elevated areas, depressions and river basins on a relief map | Use grid references, lines of latitude and longitude, contour lines and symbols in maps and on globes to understand and record the geography of an area |
Reception Rangers have shared the story of 'What the Ladybird Heard'. Using resources and toys, they worked together to make a farm map and added signs so that people could find their way around.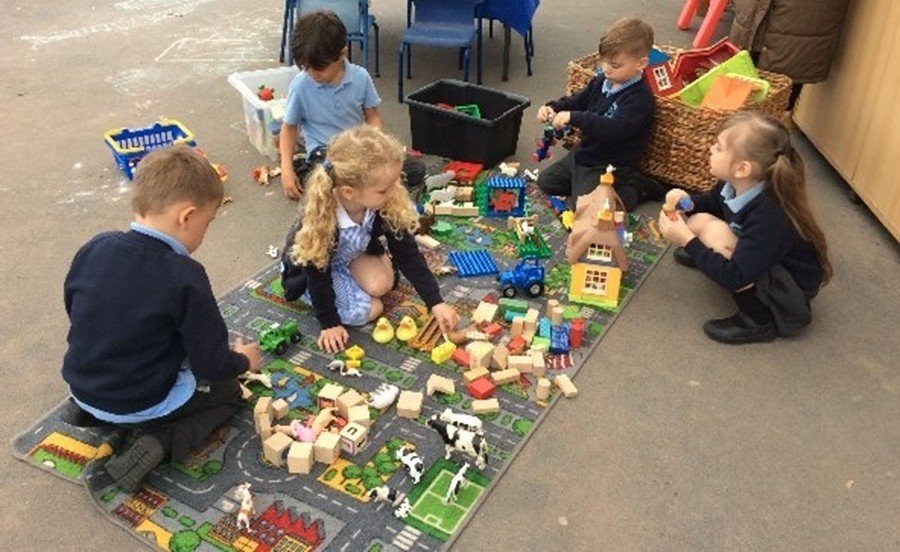 As part of the 'Land Ahoy!' topic, Year 1 and 2 have been making a treasure map for Pirate Pete. They have drawn their own maps and added a simple key.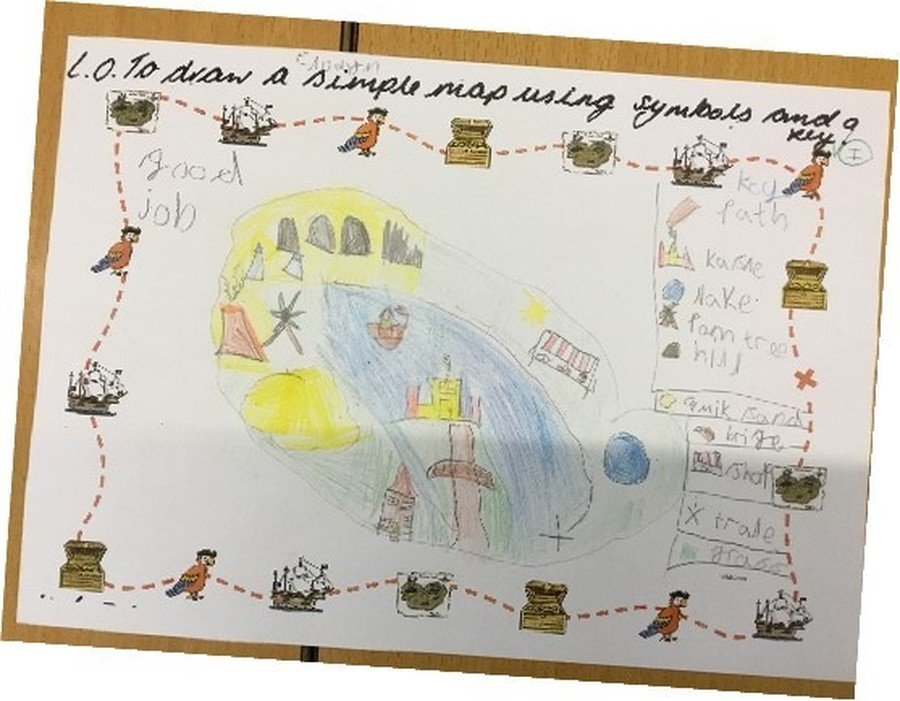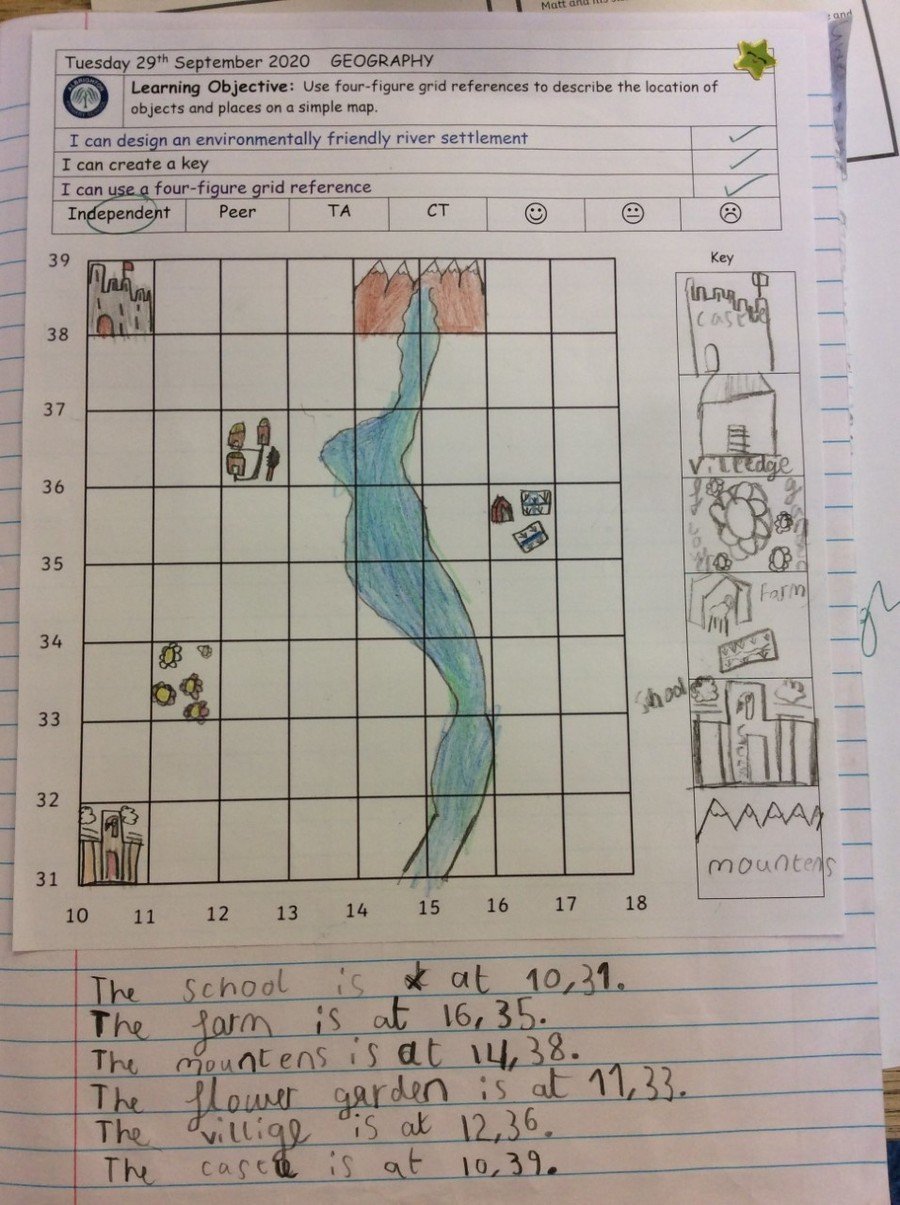 Year 3 have designed their own environmentally friendly river settlement and then used 4 figure grid references to describe locations.