Design and Technology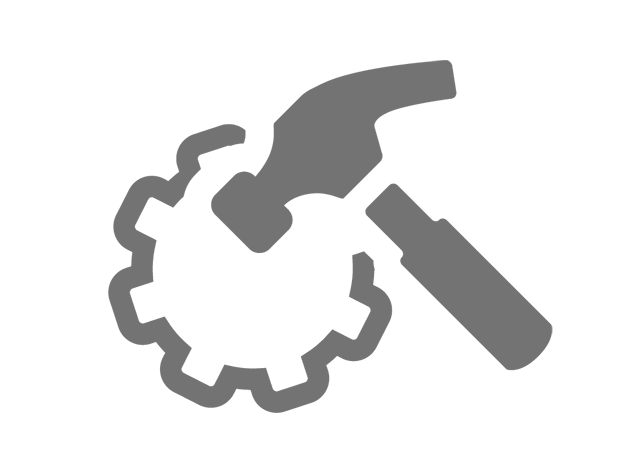 How do we teach Design and Technology at Albrighton Primary School and Nursery?
INTENT
At Albrighton our Design and Technology curriculum offers a coherently planned sequence of lessons to help teachers ensure they have progressively covered the knowledge, understanding and skills required in the National Curriculum. Our teaching of Design and Technology aims to inspire children's creativity and imagination through a broad range of practical experiences to create innovative designs which solve real and relevant problems within a variety of different contexts. The design process is fundamental throughout the learning sequence as it encourages children to identify real and relevant problems, critically evaluate existing products and then take risks and innovate when designing and creating solutions to the problems. As part of the process, time is built in to reflect, evaluate and improve on prototypes using design criteria throughout to support this process. Opportunities are provided for children to evaluate key events and individuals who have helped shape the world, showing the real impact of design and technology on the wider environment and helping to inspire children to become the next generation of innovators.
We understand Design and Technology plays an important part in children's understanding of the World around them, encouraging them to use their knowledge to ask questions. As a school we have developed strong links with RAF Cosford, which enables us to participate in meaningful STEM projects, enriching our curriculum.
IMPLEMENTATION
Design and Technology knowledge, skills and understanding are built into lessons, following an iterative process. However, this is not to say that this structure should be followed rigidly: it allows for the revision of ideas to become part of good practice and ultimately helps to build a depth to children's understanding. Through revisiting and consolidating skills, our sequence of lessons and resources help children build on prior knowledge alongside introducing new knowledge, skills and challenge. Teachers use specific series of lessons for each key stage, which offer structure and narrative but these are adapted to suit the needs of the pupils in the class. The revision and introduction of key vocabulary is built into each lesson. This vocabulary is then included in display materials, additional resources and on working walls when appropriate to ensure that children are allowed opportunities to repeat and revise this knowledge. Adult guides and accurate design and technology subject knowledge are provided to teachers to allow the teacher and adults working in those lessons to feel confident and supported with the knowledge and skills that they are teaching.
Through these lessons, we intend to inspire our pupils and staff to develop a love of Design and Technology and see how it has helped shape the ever-evolving technological world they live in.
IMPACT
The impact of using the planning, resources, including display materials, will be seen across the school with an increase in the profile of Design and Technology and children knowing more and remembering more. The learning environment across the school will be more consistent with design and technology technical vocabulary displayed, spoken and used by all learners. We want to ensure that Design and Technology is loved by teachers and pupils across school, therefore encouraging them to want to continue building on this wealth of skills and understanding, now and in the future. Impact can also be measured through key questioning skills built into lessons, child-led assessment against the school MYLOs (success criteria grids), KWL grids and summative assessments aimed at targeting next steps in learning.
We measure the impact of our D & T curriculum through the following methods:
Assessing children's understanding of the knowledge and linked vocabulary before and after the unit is taught.
Formative assessment throughout lessons - questioning and AFL tasks to check knowledge and understanding.
Opportunities to use knowledge in other contexts such as in literacy, Science or PSHE.
Interviewing the pupils about their learning (pupil voice).
Moderation staff meetings where pupil's floor books are scrutinised and there is the opportunity for a dialogue between teachers to understand their class's work.
Marking of written work in books.
Adaptive Teaching
Adaptive teaching means that teachers adapt their teaching to make it appropriate for all students in the learning environment so each and every child can access the learning and be successful in their learning. For Design and Technology this means that all children will receive quality teaching of the necessary skills required to achieve in D&T. During lessons, resources will be adapted to suit the needs of all pupils. This might take the form of breaking the lesson up into smaller chunks, rephrasing questioning, tailoring resources (visual aids, help sheets), pre lesson skills taught, using adapted equipment, peer support or targeted support from the teacher and teaching assistant.
As a school, we have used our Design and Technology skills to create a mural as a reminder of our time in 'lockdown'. We took the symbol of hope and strength, the rainbow, and turned it into a work of art!
Each year group followed their curriculum aims for working with textiles and applied it to their work.
It looks fantastic!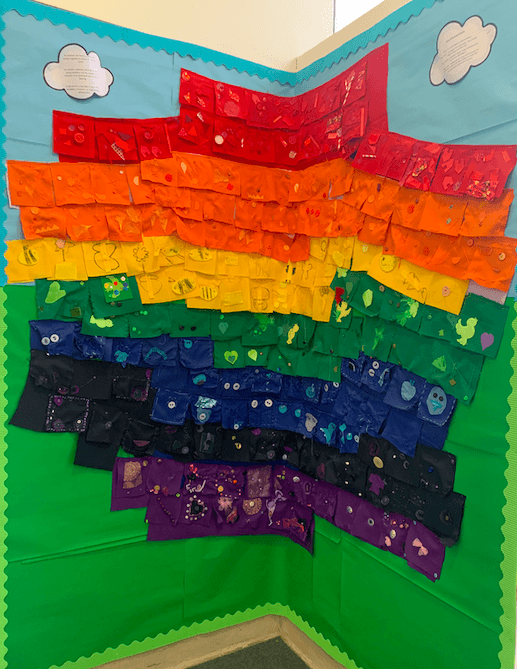 These dinosaur sock puppets made by year 1 and 2 are wonderful! If you want to make your own, check out their independently written instructions!
Years 1 and 2
As part of their Beachcombers topic, year 1 and 2 also designed and made some clay fish. They based their work on the wonderful story, The Rainbow Fish!
They made a template and then used this to show them where to cut their clay. Choosing the best equipment was really important in this task and they did a wonderful job!
Year 3 and 4
In their first week back, years 3 and 4 did a lot of work based around rainbow!
Have a look at their moving pictures that incorporated a moving rainbow into of a scene from lockdown that we will treasure!
This will help them when they do a topic on pulleys and levers later in the year.
For their new topic '1066', year 3 and 4 underwent a project that saw them design and build a castle prototype based on a strict design brief. They did an amazing job!
Year 5 and 6
To kickstart their new topic 'Hola Mexico", year 5 and 6 prepared some traditional Mexican dishes and taste tested them. Yum!
They later had a go at designing their very own Day of the Dead mask, which they then made withe paper mache and some beautiful bright paints.