Science
How do we teach Science at Albrighton Primary School and Nursery?
Intent
The Science curriculum fosters a healthy curiosity in children about our universe and promotes respect for the living and non-living. Throughout the programmes of study (National Curriculum 2014), the children will acquire and develop the key knowledge that has been identified within each unit and across each year group via stimulating and engaging activities taught through our Cornerstones topics. Regular investigations enable the children to develop their investigation skills whilst embedding the associated knowledge.
Implementation
Our school grounds provide ample opportunity to study plants and living things. All classes have access to a range of science resources, equipment and technology for further research. Each topic is supported by a wealth of quality texts supplied by Shropshire Library Services.
See examples of our work below.
Impact
We use quizes and mini-assessments to check our pupils knowledge, before and after topics, enabling us to tailor learning for each child's needs. Open-ended questioning, discussions and written work all contribute to ongoing teacher assessment.
Year 6 pupils are made ready to sit Science SATs papers if Albrighton Primary School and Nursery is selected as a sample school.
Celebrating Scientists and Inventors
Animals, including Humans
Everyday materials and States of Matter
For our year 3 and 4 Potions topic, we have been thinking about different materials and their properties. We looked closer at each material and thought about what their particles look like under a microscope. Watch our youtube video where we explain the properties of solids, liquids and gases. https://youtu.be/TkeRr2AqHu4
We have also looked at how some materials, such as water, can change states at certain temperatures.
Living things and their habitats
In year 1 and 2, we have been looking at sea creatures and how they survive in their habitats.
We did some investigations to find out what happens to materials when they are left in salt water.We made some
predictions first and then were particularly intrigued by how some materials biodegraded!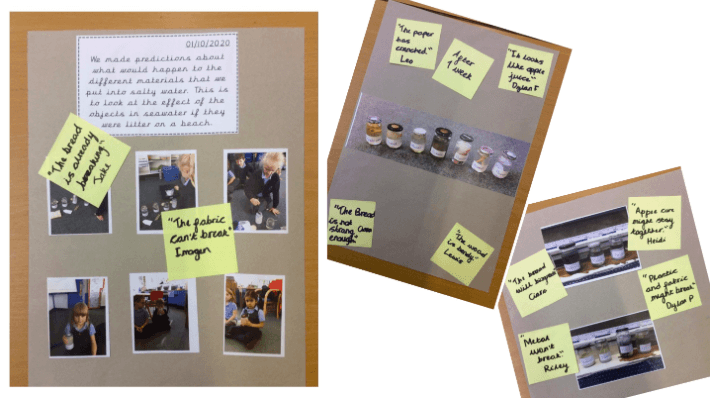 During our year 3 and 4 'Flow' topic, we carried an an investigation to find out the effect of pollutants on pond weed. We tested detergent, salt, vinegar and oil. There was a control set up, with no pollutant, to compare the other tests against. They observed that the oil floated on top of the water, blocking oxygen from getting to the pond weed. The vinegar killed the pondweed as it is an acid.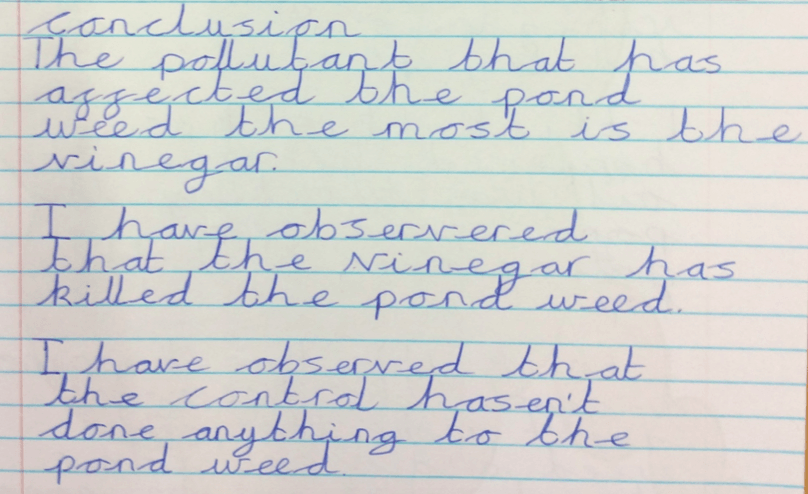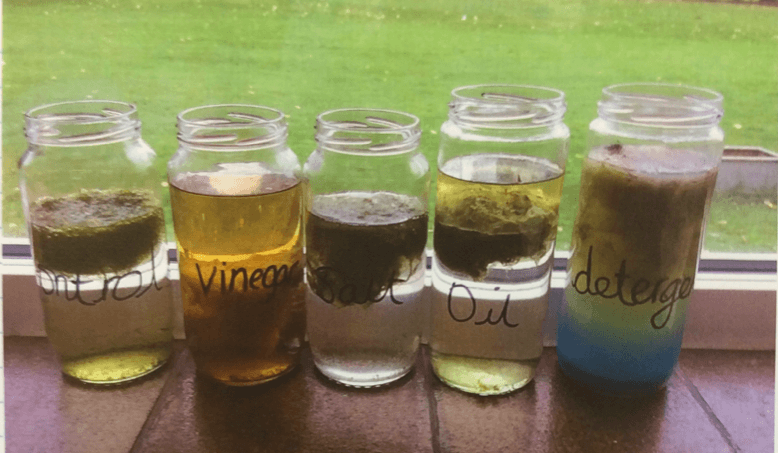 This week Years 5 and 6 have been investigating buoyancy as part of their work on forces. Eddie demonstrates how to conduct a careful observation and prediction, when testing objects for buoyancy, below the slide show.
Evolution and inheritance