Curriculum Statement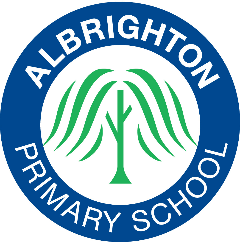 'Only our best will do!'
Intent
At Albrighton Primary School, we believe in celebrating the whole child. We want to achieve:
Pupils inspired to fulfil their maximum potential academically, personally, socially and emotionally.

Happy confident individuals who believe in themselves and respect others.
To fulfil our vision, we are committed to providing a curriculum that Engages and enthuses our pupils; Develops a deeper understanding by acquiring new skills and knowledge; Innovates children to think creatively; and allows them to Express their learning and share their successes.
For each subject's intent please click on the link below for more information.
Implementation
We have adopted the 'Cornerstones Curriculum', a creative and thematic approach which is delivered through a rich menu of exciting, and motivating learning projects designed to challenge and provoke imagination through contexts that have meaning to our pupils here at Albrighton.
Children progress through four stages of learning:
Adventurous Curious Excited Adventurous Curious Excited
Industrious Purposeful Resilient Industrious Purposeful Resilient
Imaginative Inventive Resourceful Imaginative Inventive Resourceful
Confident Articulate Reflective Confident Articulate Reflective
Our curriculum offer is driven by:
General Principles
Our curriculum will give children the opportunity to:
Explore the breadth and depth of the national curriculum.

Develop new skills through a variety of interesting contexts.

Develop a rich and deep subject knowledge.

Develop and demonstrate their creativity.

Experience the challenge and enjoyment of learning.

Make links and transfer skills to different aspects of learning.

Develop learning as a life-long skill.
Well-being
Our curriculum will give children the opportunity to:
Work in a range of groups and settings.

Build respectful relationships.

Recognise that people are good at different things.

Develop self-esteem and confidence in their abilities.

Reflect and think mindfully about their learning.
Pupil Voice
Our curriculum will give children the opportunity to:
Make a positive contribution to the school and local community.

Take part in democratic activities across the curriculum.

Express their opinions on a range of different topics and issues.
Pedagogy
Our curriculum will be taught through a pedagogy that:
Enables and fosters children's natural curiosity.

Excites, promotes and sustains children's interest.

Promotes problem solving, creativity and communication.

Enables children to reflect on and evaluate their learning.

Offers all children memorable experiences.
Enrichment
We will enrich our curriculum by:
Welcoming parents and carers to take part in children's learning and experiences.

Providing on and off site subject or topic related activities.

Offering opportunities for children to learn outdoors.

Holding specialist curriculum days and weeks.

Responding spontaneously to national and world events.
SMSC and Fundamental British Values
At Albrighton Primary School and Nursery, we are fully committed to ensuring our children become well rounded citizens of the future and prepared for life in modern Britain. We believe passionately in the Spiritual, Moral, Social and Cultural development of all of our children. Our strong ethos of SMSC underpins our teaching and learning within and beyond the classroom. This includes the promotion of Fundamental British Values. These aspects are at the heart of our Cornerstones curriculum and pedagogy.
Impact
Pupils at Albrighton are ready to move on to the next stage of their education with the necessary age-related knowledge and skills. They are resilient learners who have acquired a thirst for knowledge and the confidence to take risks. All pupils achieve their full potential.