Curriculum Statement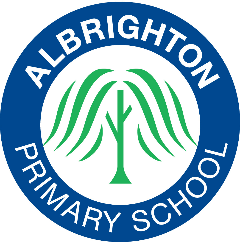 'Only our best will do!'
Intent
At Albrighton Primary School and Nursery, we believe that a broad, rich and creative curriculum is essential in the education of all pupils. We believe in celebrating the whole child so that they are:
Inspired to fulfil their maximum potential academically, personally, socially and emotionally ensuring they are prepared for their next stage in their education and beyond.
Happy confident individuals who believe in themselves and respect others.
To fulfil our vision, we are committed to providing a high-quality curriculum that Engages and enthuses our pupils; Develops a deeper understanding by acquiring new skills and knowledge; Innovates children to think creatively; and allows them to Express their learning and share their successes.
As a school, we are very lucky to have such a varied and interesting locality and we use our strong community links to enhance our curriculum and encourage a true love and curiosity for the world and everything in it.
For each subject's intent please click on the link below for more information.
Implementation
We have developed a creative and when appropriate, thematic curriculum by ensuring we are able to deliver a rich menu of exciting, and motivating learning projects designed to challenge and spark imagination through contexts that have meaning to our pupils here at Albrighton.
Due to the unique make-up of our pupils, our school curriculum follows a two-year cycle.
Children progress through four stages of learning:
Adventurous Curious Excited Adventurous Curious Excited
Industrious Purposeful Resilient Industrious Purposeful Resilient
Imaginative Inventive Resourceful Imaginative Inventive Resourceful
Confident Articulate Reflective Confident Articulate Reflective
Our curriculum offer is driven by:
General Principles
Our curriculum will give children the opportunity to:
Explore the breadth and depth of the national curriculum.

Develop new skills through a variety of interesting contexts.

Develop a rich and deep subject knowledge.

Develop and demonstrate their creativity.

Experience the challenge and enjoyment of learning.

Make links and transfer skills to different aspects of learning.

Develop learning as a life-long skill.
Well-being
Our curriculum will give children the opportunity to:
Work in a range of groups and settings.

Build respectful relationships.

Recognise that people are good at different things.

Develop self-esteem and confidence in their abilities.

Reflect and think mindfully about their learning.
Pupil Voice
Our curriculum will give children the opportunity to:
Make a positive contribution to the school and local community.

Take part in democratic activities across the curriculum.

Express their opinions on a range of different topics and issues.
Pedagogy
Our curriculum will be taught through a pedagogy that:
Enables and fosters children's natural curiosity.

Excites, promotes and sustains children's interest.

Promotes problem solving, creativity and communication.

Enables children to reflect on and evaluate their learning.

Offers all children memorable experiences.
Enrichment
We will enrich our curriculum by:
Welcoming parents and carers to take part in children's learning and experiences.

Providing on and off site subject or topic related activities.

Offering opportunities for children to learn outdoors.

Holding specialist curriculum days and weeks.

Responding spontaneously to national and world events.
SMSC and Fundamental British Values
At Albrighton Primary School and Nursery, we are fully committed to ensuring our children become well rounded citizens of the future and prepared for life in modern Britain. We believe passionately in the Spiritual, Moral, Social and Cultural development of all of our children. Our strong ethos of SMSC underpins our teaching and learning within and beyond the classroom. This includes the promotion of Fundamental British Values. These aspects are at the heart of our curriculum and pedagogy.
Teachers should set high expectations for every student. They should plan stretching work for students whose attainment is significantly above the expected standard. They have an even greater obligation to plan lessons for students who have low levels of prior attainment or come from disadvantaged backgrounds.
National Curriculum in England Framework, DfE 2014
At Albrighton, we believe in ensuring that we maximise every child's learning by using adaptive teaching techniques in lessons.
What is adaptive teaching?
Every individual student learns differently, and this is affected by a range of factors, including prior knowledge, ability and motivation. Students are very diverse and all, to a greater or lesser extent, have special needs as they learn at different rates and require different levels of support from teachers to succeed and reach their full potential.
Adaptive teaching means that teachers adapt their teaching to make it appropriate for all students in their classroom. This has replaced the term 'differentiation' quite recently which implied that teachers should create distinct tasks for different groups of students within the classroom. Adaptive teaching focuses on the whole class. It is important that our pupils learn from experienced teachers with what is called 'Quality First Teaching' and then using different techniques outlined below children's needs are responded to in the classroom.
What adaptive teaching techniques are used to maximise progress?
Breaking down content into smaller chunks or steps

Scaffolding, modelling with thinking out loud technique

Pre teaching or pre reading about a subject

Varying levels of support, including effective support from TAs as well as the teacher

Removing unnecessary expositions i.e. keeping your spoken language at an amount and level that will enable maximum access

Use of concrete resources such as word mats, number lines, counters etc.

Pictures and diagrams

Reframing questions

Intervening appropriately, i.e. in the classroom/lesson wherever possible, to minimise the need for out-of class interventions (though these will still be appropriate and necessary for some pupils)

Flexible groups

Make connections to previous learning and supporting children to remember more through various strategies such as, quizzes, knowledge dumps, mind maps

Thinking time to process information
Adaptive teaching is more successful when it focusses on:
Targeted, tailored support
Additional practice
Breaking down components into smaller parts
Acting on information from formative assessment
Teaching carefully selected groups
Well-chosen resources
Seeking to understand pupils' differences, including their different levels of prior knowledge and potential barriers to learning, is an essential part of teaching. Adapting teaching in a responsive way, including by providing targeted support to pupils who are struggling, is likely to increase pupil success.
Impact
Pupils at Albrighton are ready to move on to the next stage of their education with the necessary age-related knowledge and skills. They are resilient learners who have acquired a thirst for knowledge and the confidence to take risks. We work together to ensure our pupils achieve their full potential.