Our new email address is years4and5@albrighton-pri.shropshire.sch.uk
This will replace the class email addresses.
Please email with any queries or to share your work.
Please head over to our new Year 4/5 celebration of work page, where you will see examples of some of the work sent to us.
Daily work will continue to be set and uploaded on the 4/5 Home Learning page by 9am each day.
Well done for all of your hard work.
Really happy that Reanna has shared a huge, fabulous selection of work from her last week before half term. She has really engaged in this Stargazers topic and I'm very proud of what she has achieved. Keep it up! You're fab!
Thanks again for sharing your work, Ellen! I love the idea of exploring Pluto and you can see there are some excellent facts within this piece of writing. Well done.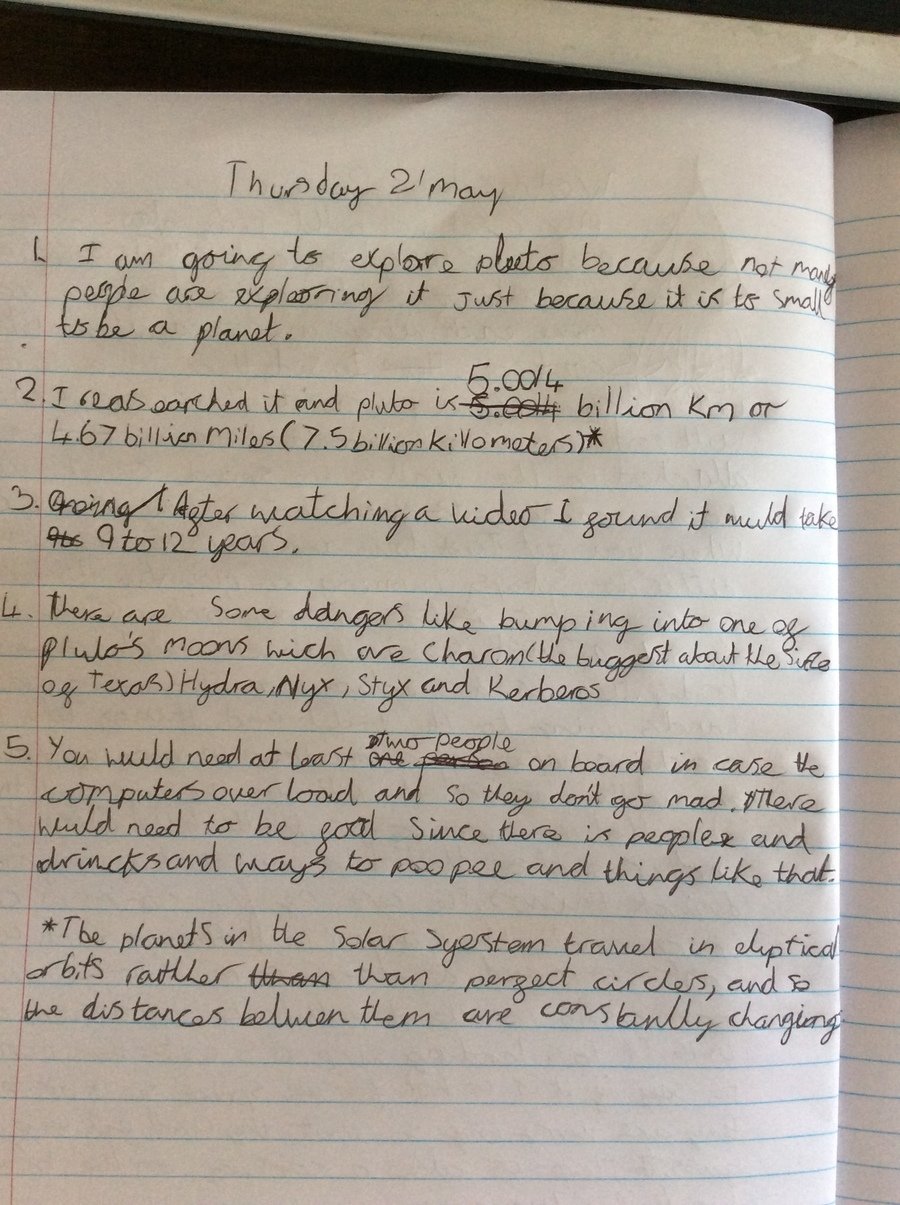 Look at this! I'm sure you are equally as impressed by this Starships massive rocket! Fantastic work, well done. I love the bold colours.
Take a look at this lovely piece of artwork by Ellen! I feel she has really captured Peter Thorpe's style with the bright colours and bold background. Well done.
A lovely endorsement for Rome from one of our Starships! An old photograph - can you recognise who it is? Thank you for sharing your holiday photos with us on this wonderful piece of work.
All of this fantastic work is again all from Reanna! Alongside all of this great work, she also sent her dance for Sporkle! I loved it! Well done, Reanna. I am looking forward to when you can show me all this hard work in person. :-)
Take a look at this super lovely piece of writing with excellent presentation. I have spotted correctly punctuated speech and fabulous parenthesis. What can you see that you like? Keep up the super work!
I am so impressed with all of this incredible work from Kacey. There are lots of fantastic things to be proud of. My favourites must be the detailed information about Neil Armstong, the great arithmetic tests and the creative model planet. Well done.
More delicious biscuits sent to make my mouth water! I might have to make my own batch. Well done, Charlotte, these look great!
Check out all this incredible work from Edward! There is some brilliant writing for you to look at. Also, some mouth-watering biscuits and a great review of them. Can you spot how Edward improved the basic star recipe?
Thought I'd share some of Chloe's riveting diary entry for planet Pixel! I think I'd like to visit, but sounds a little treacherous!
Thursday 17th July 2521
Dear diary,
Today we landed on planet Pixel and we got there in my homemade rocket ship. As I expected, the planet was made out of pixels but you could not see it very clearly because the pixels blended into the sky. As I stepped off my rocket ship, my feet were hardly touching the floor as there is not a lot of gravity on planet pixel. The minute pixels were so light and you could pick up a big handful and hardly even notice you were holding anything. The pixels smelled just like candyfloss, so much so that I was tempted to eat some, but I didn't!
Just behind where we landed we notice a brown river that looked just like creamy, sticky caramel. I was so flabbergasted because it was like I was on a planet of sweets. In the distance from where I was stood I could just make out a small group of aliens so I told my team and so we headed over to them. It was tricky to get over there and on our way my friend Nikki got stuck in the caramel river so we all had to pull her out. Then we realised that it wasn't just any old river it was a quick pixel river.
Prepare for your stomach's to rumble...These incredible biscuits have been made by a very talented member of Starships! I love how the stars are a range of sizes and all incredibly decorated. In my DT evaluation, I'd definitely say the appearance is appealing! Fantastic!
WOW! Look at this from Reanna! Alongside all of this fantastic work - be sure to check out the several SL techniques she's used in her writing - she is still getting in plenty of daily exercise. Brilliant! I'm so thrilled with this and wish I could see it in person. I've given Reanna 10 dojos for this because it made me smile so much this morning. Well done.
All of this fabulous work is from Phoebe. You can see that she is working super hard and I'm very proud. It is great to see you writing at length and really considering the success criteria of each task. Keep it up, Phoebe!
These images are a wonderful sample of work from Ellen. I love how she has explored the texture of the moon through her art; carefully considered space suit design in DT; and used slow motion video to investigate gravity. Great work!
I love these vibrant aliens from Rebecca! Not only are they beautifully drawn and coloured, they are thoroughly labelled too. Well done, Becca! :-)
My improved window! Big thanks to Chloe and Ellen! I think it looks fantastic and it makes me smile whenever I walk past.
Lots of incredible work here from Reanna. I'm so proud of how hard she is working and the incredible work she is producing. She also sent me a very informative video explaining the phases of the moon. Well done, Reanna!
You are all getting very creative making your own planets! I love it! Here are some examples from Brandon, Ellen and Evie. Well done all of you that got stuck into this activity.
If you are struggling for ideas for your word banks, Chloe and Brandon can help you out! Check out this fabulous collection of adjectives and verbs! All ready for some magnificent moon myths...
You can see here a lovely collection of work from Edward. Last week, he sent me photos of his walk around his local area. This included tree rubbings and finding painted stones! Today, I was emailed a fantastic PowerPoint (included in the photos below) which was incredibly detailed and interesting. Great work, Edward.
I love this from Evie! I thought this was such a creative, visual way to display all the planets. Can you name them all from this? Fantastic stuff, Evie, I love it!
More great things from Brandon today. He chose to complete a storyboard using IT! I'm sure that, although it may look a little mysterious to us, Brandon could use this storyboard to retell his chosen myth very well. Well done too on your Studyladder certificate.
Hello again! How are you following our school motto? What have you been up to?
It is hard to believe that all of this work is from one very dedicated Starship! This isn't even everything either! Reanna I am so proud of what you are producing, especially because I think you are really taking care over your presentation and handwriting. All your work is highly informative and you are clearly working very hard. For this reason, I have uploaded 5 dojos for you (you are just 1 away from 100 now!). Fantastic.
Chloe W has shown me again what a great member of Starships she is. I love her creative responses to the Air-Hotel 3000 questions. I think I'd quite like to go on a air/cruise ship which can take me to Everest!
Always so excited to hear from you and this is exactly why - check out all of Phoebe's fantastic work this week. I can see she's learning about our new Stargazers topic, alongside practicing her ICT and French too! Great stuff :-)
Edit: I've just received Phoebe's PowerPoint that she made independently about the planets, Sun and Stars. I can see she has remembered everything she's learned in our ICT lessons at school because there are even hyperlinks! WOW! An interactive learning resource! I think this will keep me busy for a while. I've uploaded it below in case you want to learn with me. 2 dojos for this, Phoebe.
Another lovely example of a planet mnemonic from Edward. What I especially like about this is the systematic way in which the mnemonic was made! Very good.
Look at this beautifully presented falctfile about Galileo from Ellen! I love how she used the suggestion of a mind map with a portrait in the centre. An absolutely fantastic piece of work!
I've also had messages from Isabelle and Evie this week, both proud to share their success on Studyladder. I love to hear from you all, especially when you are proud of what you have achieved. Great work both of you, I'm really pleased.
You can see here a collection of photos from Brandon's family. It was lovely to see that he is keeping himself busy doing a range of activities - which includes some work too! Keep it up!
I'm sure you will love Chloe W's mnemonic as much as I did! What a creative way to display her way of remembering the planets. I don't think I fancy a very eggy meal either...
Great to see some children starting our new, exciting Stargazers topic! Here is Chloe H's catchy mnemonic and Ellen's very thorough notes about the planet. Well done both of you.
It was lovely to hear from Evie. She has kept busy this Easter holidays by going on bike rides and walking her dog. Also, she has clearly been working hard on Studyladder! Thank you for sharing your achievement with me. Well done.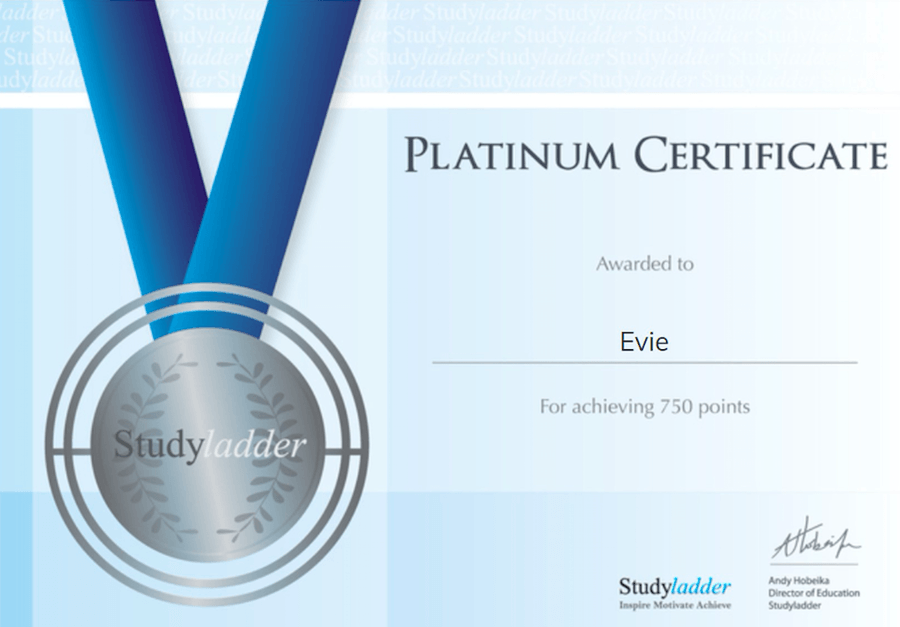 Miss Evans update:
Have you been keeping up with The Body Coach daily workouts? I've been doing them every day. Nala wasn't impressed with Joe's outfit for 'Fancy dress Friday'...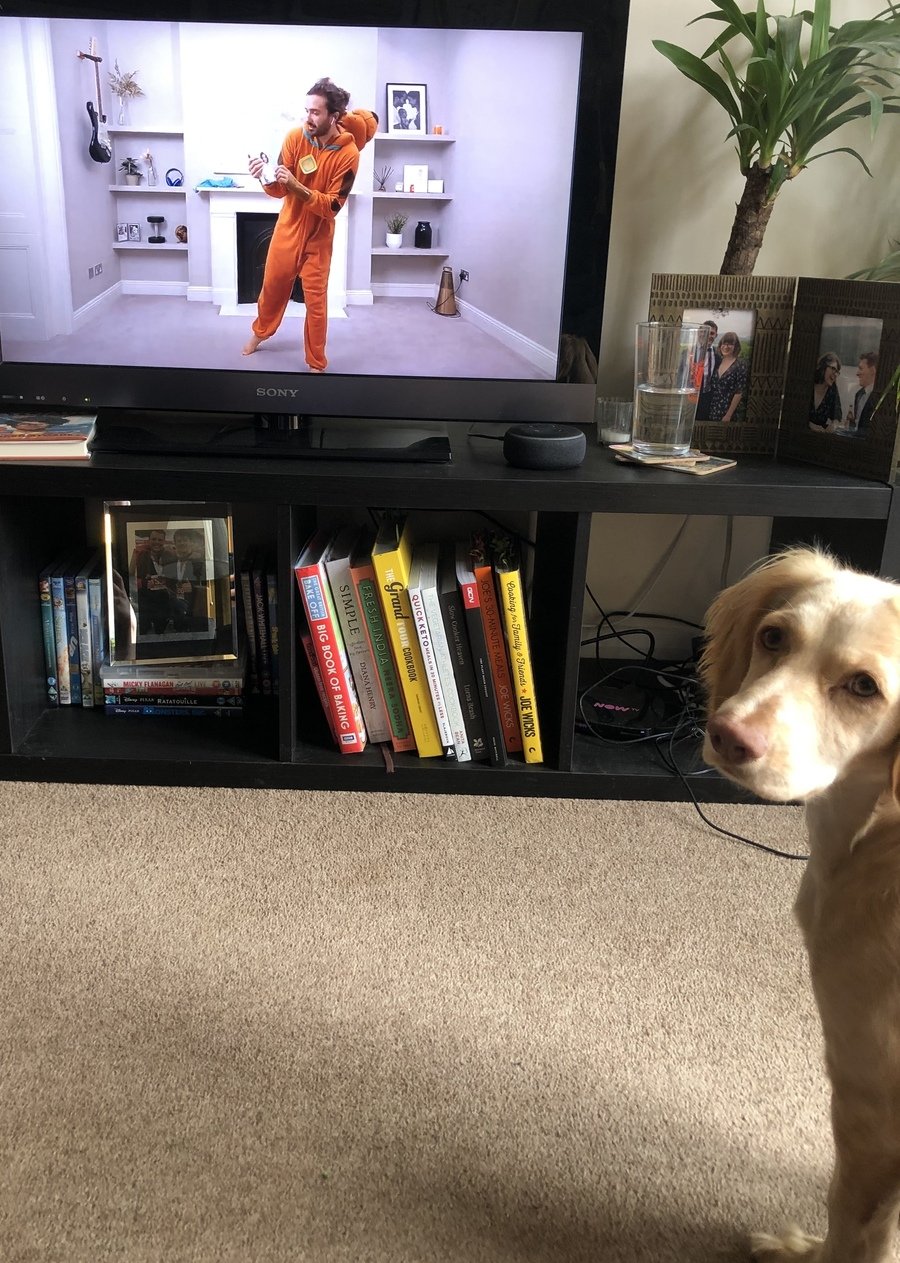 Another amazing collection of work from Reanna here. I'm really impressed with the care and attention she is giving to all of her work. I hope you are as proud of yourself as I am.
Miss Evans update:
I made brownies today! We got a little bit too excited and gobbled a few before I remembered to take a photograph. Have you been baking at all?
Nala has been napping a lot recently. This photograph shows her guilty of taking a nap on my stolen trainer!
I'm a huge fan of how Chloe W is organising herself during home learning! What an ingenious creation to keep on track. She created this herself, showing that she's taking responsibility for her own learning and success. Fantastic stuff, Chloe. I'm such a big fan I'm giving you 2 dojos!
Ellen stepped up to my challenge of drawing her local area alongside an older photograph! We can see here that perhaps a new tree has been planted. I love how Ellen has drawn all of her bricks. Overall, a really lovely piece of work. Great job!
Look! A sneak peak of Phoebe's mining museum! How fantastic! It looks jam packed with interesting artefacts and informative explanations. I also know Phoebe has been trying hard with her IDL. Well done, Phoebe, you're doing brilliantly.
It was lovely to have an update from Noah this morning. He's been up to all sorts: setting obstacle courses for his siblings; looking after a new puppy; making soaps; completing science experiments...The list is endless! Fantastic that you are keeping so busy, Noah. I hope you're enjoying yourself!
I wish I was going to Ellen's mining museum! Take a look at her kibble made from clay. If you googled what kibble looks like - like I did - you'll see how similar Ellen's design is. I love the detail you've used in your work. The explanation is also very thorough and interesting. Fantastic!
Below is a great selection of work is from Edward. I really like his science investigation especially. He has investigated how the size and weight of a paper spinner affected the length of time each was in the air! This looks like a very interesting experiment that we could all try at home.
Lovely to hear from Isabelle and Charlotte today. They have shared work that they are proud of. For Charlotte, this is lots of green smiles on her study ladder work. For Isabelle, it's her information cards for her mining museum. Well done both of you!
The exciting Study ladder certificates also meant Charlotte reached 154 dojos. Hopefully I will have the opportunity to give you this in person. In the meantime, I'm sure we'll all give you a clap from our homes!
Very proud to be a member of Starships today. I had a look at the certificates section of Study ladder...Wow!
Reanna, Rose, Charlotte and Evie have all achieved gold certificates! Also, an extra congratulations for Chloe W for achieving her gold AND an incredible platinum award. I have given you each 10 dojos to recognise this hard work. You should all be very proud of yourselves. There is the option to print these certificates too so you can have your own copies at home. I can't wait to see who is next to join them!
Chloe has shared her Love To Investigate with us! Look how amazing these 'fossils' look! Well done.
Miss Evans update:
To keep me busy learning just like you, I've signed up for a British Sign Language (BSL) course! The first step is learning the alphabet. Guess what: it's the same as the Makaton we've learned together. Can you spell your whole name? Check out my alphabet signing video below.
It was lovely to receive some work from Ellen today. As you can see, she has worked hard creating information and sketches for her mining museum. I'm certainly jealous of any future visitors! Well done.
I was so proud of Evie completing 18 lessons on IDL that I gave her 10 dojos! Evie is definitely still following our school motto, 'only our best will do'!
Wow! What an incredible collection of work from Kacey! Alongside doing all this fantastic home learning, she has been busy taking a daily walk and playing on the trampoline. Thank you for your email, Kacey, keep up the hard work.
Here you can see more work by Reanna. I like in her writing she's really considered a variety of different fronted adverbials (SL11) to vary her sentence openers. It's great to see her Geography work too! Great work!
I received another bundle of work from Josh today. You can see here that he's tried both the art and geography from our topic work. I love how there are lots of correct answers in the geography - maybe Josh can teach us when we get back! I'm adding 5 dojos to reward your hard work over this week.
Revise your Makaton alphabet with me! Can you spell your name?
It was so lovely to hear from Evie. She's used her Polymer Clay skills to create a rainbow hair clip! What an inventive way to spread some positivity during this time. :-)
Delighted to receive a vast collection of work from Reanna today! You can see she has been completing every activity that has been suggested (including the online maths) and doing a great job too. Well done.
A variety of brilliant work was emailed by Josh today. Can you spot his relative clauses? Can you notice all the Y5 spelling words within his writing? Josh also sent a video of him exercising and keeping fit. As I predicted, much better than Miss Evans. Great stuff Josh, you should be proud!
Well done to Chloe for sharing her writing. Incredible effort here, taking care to include those ingredients for success. Keep it up!
A Miss Evans update:
I've been doing Joe Wicks PE every morning at 9am! Are you going to join me? I'm sure you're a lot fitter than I am! Search 'The Body Coach' on Youtube or follow this link - https://www.youtube.com/channel/UCAxW1XT0iEJo0TYlRfn6rYQ
Whilst keeping 2m apart from anyone else, I have also been enjoying some walks with Nala. It's a great way to get some fresh air in a big, quiet field. Have a look at Nala enjoying herself in the sun below.

Let me know what you've been doing. Would you like me to read like Mrs Wilson? Share your hard work. Keep going, Starships! :-)